The Leo Weather of 2017 and Ghislaine Maxwell
On July 17th, 2017, you read a prediction about a chain of eclipses along the Leo axis of the world horoscope. Leo the lion of the zodiac, rules royalty, including Prince Andrew, but it is also associated with (among other things) Leo Bill Clinton. At that time, Leo actress Meghan Markle was virtually unknown, but a sequence of eclipses in her sign would change that.
How Old Cover-Ups are Triggered in Summer 2021
These dates, below, are about to be triggered in July and August 2021, and at the end of this feature, I'll look at some predictions. These are the days when astrology suggested the usual eclipse cover-ups. In July and August 2021, we're going to discover just how in the dark we have been.
The Leo Axis Eclipses of 2017, 2018, 2019
August 7th, 2017 Sun 15 Leo – Moon 15 Aquarius
August 21st, 2017 Sun 28 Leo – Moon 28 Leo
January 31st, 2018 Moon 11 Leo – Sun 11 Aquarius
July 27th, 2018 Sun 4 Leo – Moon 4 Aquarius
August 11th, 2018 Sun 18 Leo – Moon 18 Leo
January 21st, 2019 Moon 0 Leo – Sun 0 Aquarius
Looking Back at Predictions and Outcomes
Before making any new astrology predictions about Ghislaine Maxwell, Donald Trump, Jeffrey Epstein and the royal family, in this Leo-themed drama, it's important to look at the original forecasts to see how accurate they were – back on July 17th, 2017.
Some time later, New York magazine (below) ran a detailed investigation into shadowy Jeffrey Epstein, with a stunning photograph which accidentally shows – a big cat eclipsed. The tiger or lion has long been a Leo symbol. Astrology is a mysterious thing.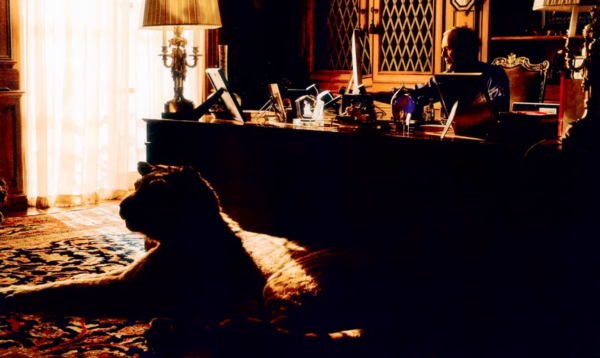 Prediction: Lolita and the Leo Weather of 2017-2019
"Vladimir Nabokov produced Lolita in 1955 during the long Pluto in Leo cycle. The power of sex. The power of the teenager. This was not a charming tale of courtly love, knights and damsels. It was the story of a nymphet step-daughter and her middle-aged stepfather. In the same year Francoise Sagan, then eighteen, published Bonjour Tristesse about Cecile, a teenager taking on her widowed father's mistress."
Outcome
As Channel Four outlined on June 15th, 2021, Jeffrey Epstein's plane, The Lolita Express (a Boeing 727) flew in and out of British airports at least 51 times. Channel Four reported that in 2015 the Met Police chose not to open a full criminal investigation into an incident involving Epstein, Maxwell and Prince Andrew, back in 2001. Prediction – Christmas 2017 and The Special Relationship
"There is karma here with the United Kingdom and the United States. It goes back centuries. It is due at Christmas 2017. We can expect a major event then, affecting The Special Relationship."
Outcome
Meghan Markle spent Christmas Day 2017 with the Royal Family. But by March 2021, the Oprah Winfrey interview with Meghan and Prince Harry was seen as threatening The Special Relationship as reported in The Sun.
Prediction – Buckingham Palace Off the Radar
"Saturday, August 11th is a New Moon. Partial Solar Eclipse. Sun 18 Leo conjunct Moon 18 Leo. It would be unwise to just swallow the news, at these times. In fact, anyone who is associated not only with Buckingham Palace but also the White House should be aware that an awful lot of events will be off radar then."
Outcome
As the BBC reported Meghan, then 39, sent a letter to her father in August 2018, following her marriage to Prince Harry in May that year.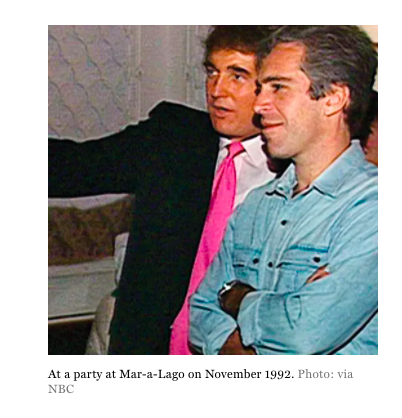 Prediction – The Trumps
"The period around August 9th-11th, 2018 is about misinformation and missing information, relating to the President's children, younger family members, and any youthful successors to the Presidency (the heirs to the throne)."
Some time after the original astrology prediction, news outlets like NBC (pictured, right) would fall upon the Epstein-Trump friendship.
Outcome
Donald Trump's Media Director for black news outlets left the White House on August 9th, 2018. This event took place, exactly on the eclipse.
Prediction – Bill Clinton, Monica Lewinsky Replay
"A very Leo thing happened in 1999 on the last major Leo Node cycle. Sun Leo U.S. President Bill Clinton was acquitted in his impeachment trial for allegedly lying about his affair with Sun Leo intern Monica Lewinsky. Lacking a monarchy, or a royal bedchamber, America has the White House and the Oval Office. That year is a good example of Leo-Aquarius 'weather.' The Democrats were the people. Bill was King. The people rose up against him, but he kept his crown. It would be unusual if there was not a direct or indirect replay of the Clinton/Lewinsky story of 1999 between now and 2019, on the final Leo eclipse."
Outcome
The New York Post reported on 25th April 2021 that Jeffrey Epstein and Ghislaine Maxwell were VIP guests in Bill and Hillary Clinton's White House, with photographs. The Daily Mail reported on a portrait of Bill Clinton in a blue dress in Jeffrey Epstein's New York mansion.
Prediction – Baby for Kate, Marriage for Harry
"On Thursday, the 28th of September 2017, we have Fortuna at 1 Leo and Ceres at 1 Leo too. That is a random, fortunate, fated carve-up of the Royal Family's line of succession to the throne. It can also happen, at best, every 12 years. So it's historic. Again, we have to ponder – another baby for Kate? A marriage for Harry?"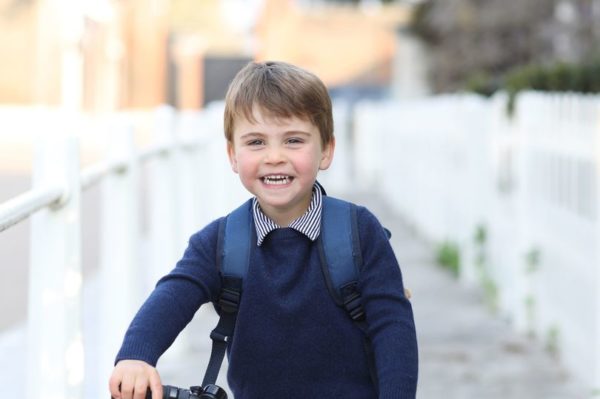 Outcome
Kate, the Duchess of Cambridge, announced her pregnancy on the 4th of September 2017. Meghan and Harry announced their engagement two months later on the 27th of November 2017. (Photograph of Prince Louis: The Duchess of Cambridge, Twitter).
Prediction: Her Majesty the Queen
"Her Majesty the Queen, Prince Charles and Prince George will be at the heart of a new kingdom, with a carve-up of rights, roles and responsibilities, between 24th September 2017 and 28th June 2018. There will be a deep change in either the line of succession, or the way the royal jobs are handled."
Outcome
HRH Prince Louis of Cambridge was born on April 23rd, 2018. Prince Louis became the fifth in line to the throne behind his grandfather Prince Charles, father Prince William and older siblings Prince George and Princess Charlotte.
Prediction – William and Harry at War
"In the new Leo cycles of 2017-2019 a complete split is possible between the male heirs in the United Kingdom with one male Royal breaking away by himself, in search of post-Brexit new horizons. The Wars of the Roses originally ran from 1455 to 1485 and saw the the royal houses of Lancaster and York against each other. This looks like a Royal flying the flag for new British trade deals around the world, but without belonging to a Royal Family. You have to wonder who will play Edward V or Henry Tudor on this journey. Prediction (July 2017) House of Windsor = New Wars of the Roses by 2019."
Outcome
As Vanity Fair reported in May 2021, William and Harry had now developed a royal rift over two continents.

Predictions for Ghislaine Maxwell
Published on the 4th of July 2020, this feature about the Ghislaine Maxwell horoscope timed May and June 2021, as key months for her. It ran, "You would expect Maxwell and Epstein's diaries, letters, recordings, videotapes, confessions to surface when the North Node goes to 10 Gemini and this happens in May and June 2021…Between May 7th and July 13th, 2021, Ghislaine Maxwell will make headlines with her diaries, personal papers, statements, recordings or interviews. May and June 2021 is the critical crossroads." The Outcome
The Guardian reported that on 3rd May 2021, the Ghislaine Maxwell trial was postponed. Then on the 27th of June, a few weeks later, it was reported that 'Ghislaine Maxwell had begun to share her little black book with Epstein as early as the 1980's.
New Predictions
Ghislaine, Clinton, Trump and the Royal Family
On July 22nd, 2019, New York Magazine published a stunning investigation into Jeffrey Epstein. "A close study of his circle – social, professional, transactional. reveals a damning portrait of elite New York" it suggested.
The astrology predicts that when the Leo weather passes over those original eclipse degrees in July-August 2021, we will find out just how much we never knew, and may never know, about Ghislaine Maxwell, Bill Clinton, Donald Trump, Prince Andrew and the Royal Family.
Detecting the Cover-Ups of 2017-2019
When you track eclipses from the past (2017-2019) you tend to find black holes of missing information. Light dawns on us, as we realise that there has been one cover-up after another. So, we would expect that sensation of being fooled or hoodwinked, as the Sun goes over 0, 4, 11, 15, 18, 28 degrees of Leo.
In July and August 2021, we will look at these famous faces, and some infamous names, and realise how very little we knew about the truth, in 2017, 2018, 2019.
We can time that wake-up call to come, to these dates: July 23rd, 27th, August 4th, 8th, 11th and 21st, 2021. As I write this on June 30th 2021, it may well have something to do with Trump's Casino Vice-President.
Trump Casino Predictions That Came to Pass
Allen Weisselberg was Chief Financial Officer and Vice President of Trump Casinos. On June 30th, 2021, as I write this today, he was placed on criminal charges. Now, astrology predicted the Trump casino empire would be in crisis, exactly in June 2021, back on October 4th 2020, as you saw on this website.
Ghislaine Maxwell's trial has been scheduled to begin on 29th November, 2021 but the astrology would suggest that what is about to be placed in the spotlight in July and August may alter that date again. Watch.
What the Leo Eclipses Did
The Leo axis eclipses of 2017, 2018 and 2019 put a couple of Sun Leo people centre-stage, but with shadowy questions, typical of eclipse mysteries. Eclipses tend to show up years later, when we realise we were left in the dark.
Those two Leo people in the original eclipse story of 2017, 2018 and 2019 turned out to be Bill Clinton and Meghan Markle in two separate stories. The former was drawn into questions about an elite group including Prince Andrew, and the latter was drawn into questions about her father, following his last-minute replacement by Prince Charles at Meghan's wedding.
Those Leo eclipses in 2017, 2018, 2019 also parked typical Leo issues about the royal bedchamber (Prince Andrew) in front of our gaze, and the historic association between Leo and, unfortunately, under-age sex (Lolita).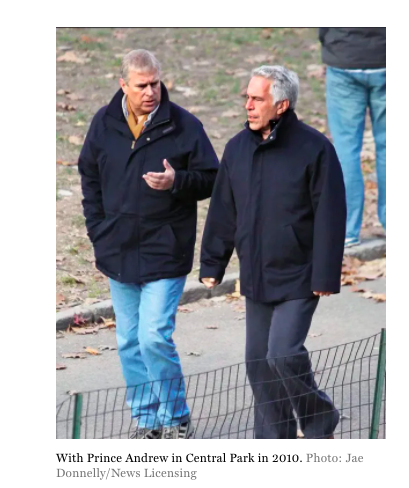 What we do know about eclipses is that they are sealed shut in time. We are left in the dark forever. So, although the Sun in Leo (and the Leo weather) of July and August 2021 is going to bring all those puzzles from 2017, 2018 and 2019 back to us, some jigsaw pieces will be missing forever.
Mercury in Leo in 2021
As Mercury rules the media, and Mercury also goes through those eclipse degrees from July 29th until August 11th, with a New Moon in Leo on August 8th, we would have to figure that summer in America and Britain 2021 is going to shed a strong spotlight on just how much was hidden from us, up to five years before. New York magazine (left) famously published the contents of Jeffrey Epstein's little black book, with blacked-out entries. Eclipses coincide with just this kind of information blackout. Be prepared for the fact that in July-August 2021 we are going to realise the extent of some mysteries.
Will the Truth Come Out?
Will the truth ever come out about the puzzles involving the Royal Family, the Special Relationship, the Clintons, Trump and Ghislaine and Jeffrey's Lolita flights? For that, we have to wait for a rather interesting period in 2022, when Ceres goes through Leo. Once again, the Sun and Mercury will also be in the sign of the lion, shedding light and reporting the news.
We should all be asking harder questions, July 24th until September 29th, 2022. The Full Moon at 19 Aquarius opposite the Sun at 19 Leo, on Friday the 12th of August 2022, looks like a huge crossroads in the jigsaw puzzle that is the British royal family; the Trumps; the Clintons; Ghislaine Maxwell and Jeffrey Epstein, because it triggers an old eclipse. But honestly, if you are a regular astrology reader and you think you had the wool pulled over your eyes during that old Leo weather of 2017-2019, the stars would say – you most certainly did.
Images Courtesy of Unsplash.com and Pinterest.